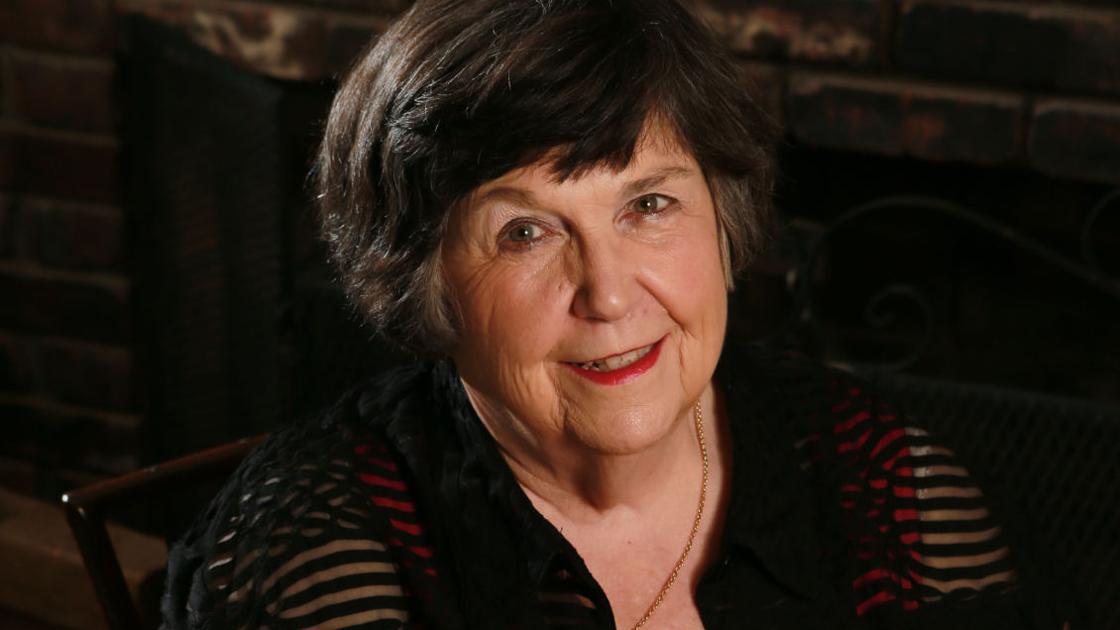 COOK OF THE WEEK: B&B owner wants everything perfect for guests | Food
PONTOTOC • When Jane Winston hosts guests at her B&B in Pontotoc, she wants breakfast to be a memorable meal.
"I do something different every day," she said. "One day, I'll make scrambled eggs, bacon, muffins and cheese grits. The next day, I'll have a breakfast egg casserole, sausage, and biscuits. And I always serve fresh fruit."
Not only does she want the food to be good at the Bodock Bed and Breakfast, but she also wants the dining room table to be pretty.
"I use different china every day for my guests," said Winston, 77. "It might be blue and white, or green, or have roses on it. When we get down to the clear plates, it's time for them to go."
Winston has always found herself in the kitchen. As the middle of five children and one of four girls, she and her sisters were always helping their mother cook or wash dishes or sweep or clear the table.
"We could do whatever we wanted to in the kitchen as long as we cleaned up afterward," she said.
Winston grew up in Arlington, Virginia, where her father worked for the government as an attorney and accountant. Her mother stayed home for several years raising kids, then went to work as a legal secretary.
"The summer before I went to college I got a job in my mother's office, and a friend introduced me to Toby," Winston said. "We dated long-distance through college. I was at George Mason, and he was at Ole Miss. We met in 1961 and married in '67. He wasn't a fast mover."
The Winstons moved all around Mississippi for his job as a judge, then returned to his family's homeplace in Pontotoc in 1994. The couple has two children and five grandchildren.
"We moved to Toby's parents' house first and then to his grandparents," she said. "We turned his parents' house into the B&B several years later."
When Winston isn't cooking for guests, she's cooking for Toby.
"He makes his own breakfast, then for lunch I make a salad, a meat and a fruit, and then at night a meat and two vegetables."
They might have grilled chicken, butterbean and string beans, or pork tenderloin with sweet potatoes and peas.
"I cook both Sunday lunch and dinner," she said. "I'd rather not cook dinner, but Toby likes to eat. I don't make a dessert unless we have company, but on Sundays we have ice cream. We grew up with ice cream on Sunday."
Once or twice a week, Winston tries a new recipe she's found in a magazine, online, in a cookbook or cut out of the newspaper.
"I'm going to try a recipe exactly the way it's written the first time," she said. "Then, I'll venture out and do my own thing."
SUMMER CUCUMBERS
1/2 medium onion, thinly sliced
1 tablespoon fresh dill, chopped
Score the peels of cucumbers, then slice the cucumbers into 1/4-inch-thick slices. Combine cucumbers with onion, dill and sour cream. Season with salt and pepper. Chill. If cucumbers are too thick when ready to serve, thin mixture with a little milk.
BREAKFAST EGGS
2 tablespoons all-purpose flour
4 tablespoons butter, melted
2 cups small-curd cottage cheese
2 cups grated sharp Cheddar cheese
1 (4-ounce) can chopped green chilies, drained
Combine all ingredients and pour into a greased 8×8-inch or 9×9-inch casserole. Bake at 375 degrees for 35 to 40 minutes. Serve with cooked pork sausage on the side.
SHORTBREAD
2 sticks butter, softened
1/2 cup superfine sugar, plus more for sprinkling
Line a 9-inch square pan with foil, leaving an overhand on all sides.
Cream butter and sugar with a spoon; slowly add the flour. Knead dough until it's crumbly. Pat dough over the bottom of the prepared pan. Prick all over with a fork. Bake at 325 degrees for 45 minutes. Score while still warm and sprinkle with additional sugar. Lift the foil out of the pan and put on a rack to cool. When cool, break apart on scored lines. Makes 20 pieces.
LEMONY BROCCOLI
20 ounces frozen broccoli, cooked and drained
Arrange the cooked broccoli in the bottom of a 1 1/2-quart baking dish, Mix mayonnaise, sour cream, and lemon juice together and pour evenly over broccoli. Cover with buttered breadcrumbs. Bake at 375 degrees for 20 minutes.
PEACH COBBLER
3 cups fresh peaches, sliced
1/4 teaspoon almond extract
1 cup sifted all-purpose flour
6 tablespoons margarine, melted
Place peaches on the bottom of a greased 10×6-inch baking dish. Sprinkle peaches with lemon juice and extract. Sift together flour, sugar and salt. Add egg and mix with a fork or hands until crumbly. Sprinkle over peaches. Drizzle with melted margarine. Bake at 375 degrees for 35 to 40 minutes. Serve topped with ice cream.
BROWNED BUTTER CHOCOLATE CHIP COOKIES
1 tablespoon vanilla extract
2 1/2 cups all-purpose flour
1 (12-ounce) package semi-sweet chocolate chips
Place butter in a pan and cook over medium heat. Stir constantly until butter starts to boil and has a caramel scent. Remove from stove and allow to cool.
Once butter has cooled, place it in a mixer with sugars and baking soda and mix well. Slowly add eggs, vanilla and flour. Stir in chocolate chips.
Line a cookie sheet with parchment paper. Scoop cookie dough onto the paper and lightly sprinkle with sea salt. Bake at 350 degrees for 9 to 11 minutes.
VANISHING BLUEBERRY PIE
2 tablespoons all-purpose flour
1 teaspoon vanilla extract
2 1/2 cups fresh blueberries, washed and drained
Pastry for a 9-inch pie shell, unbaked
3 tablespoons all-purpose flour
3 tablespoons unsalted butter, room temperature
3 tablespoons chopped pecans or walnuts
For the pie, blend sour cream, flour, sugar, vanilla, salt and egg until smooth. Fold in blueberries. Pour filling into unbaked pastry shell and bake at 400 degrees for 25 minutes.
For the topping, thoroughly combine the flour, butter and nuts. Sprinkle topping over pie and bake 10 minutes more. Chill before serving. Makes 8 servings.
QUICK CHEESY GRITS
1 cup Jim Dandy quick-cooking grits
6 dashes Tabasco hot sauce
8 ounces processed cheese, cubed
Bring salted water to a boil. Whisk in grits. Cover and simmer over low heat for 5 to 7 minutes or until thickened. Add Tabasco and cheese and stir to melt. Good for breakfast or with shrimp.
BARBECUED SHRIMP
2 pounds shrimp, peeled and deveined
2 sticks margarine, melted
1 teaspoon Worcestershire sauce
Skewer shrimp onto metal shish kabob skewers. Combine Tiger sauce, melted margarine, Liquid Smoke, Worcestershire and garlic salt, and brush on both sides of shrimp. Let stand 1 hour. Place the shrimp on a charcoal grill, turning and brushing frequently with marinade mixture for 5 to 7 minutes or until shrimp are done. Serve with rice and salad.
Note: Tiger sauce is found on the grocery aisle with Worcestershire sauce.
CABBAGE SALAD
1 large head cabbage, shredded
1 green bell pepper, sliced paper thin
2 medium onions, thinly sliced and rings separated
1 medium jar diced pimientos, drained
In a large container, layer the cabbage, bell peppers, onions and pimientos, in that order. Do not stir.
In a saucepan, combine oil, sugar, vinegar, salt and celery seed. Boil for 2 minutes. Pour hot dressing over cabbage mixture. Cover tightly and refrigerate at least 4 hours before serving. Covered and refrigerated, this recipe will keep indefinitely. Serves 15.
POTATO CHIP CHICKEN
1 (12-ounce) package potato chips, crushed
2 pounds boneless, skinless chicken breasts, cut into 1-inch strips
In a shallow bowl, combine sour cream, garlic salt, onion salt and paprika. Place crushed potato chips in another shallow bowl. Dip chicken in the sour cream mixture, then coat with crushed chips. Place on a greased 15×10-1-inch jellyroll pan and drizzle with butter.
Bake at 400 degrees for 20 to 22 minutes or until chicken is no longer pink. Serve warm with salsa or honey mustard.
To freeze, cool the cooked chicken. Place in an airtight container and freeze. To use, reheat on a jellyroll pan at 400 degrees until crisp and heated through. Serves 10.
BENNE WAFERS
1 stick unsalted butter, room temperature
1 cup light brown sugar, firmly packed
1 teaspoon vanilla extract
1 cup toasted sesame seeds
Cream together butter, sugar, salt, baking soda, vanilla and egg. Add flour, then stir in seeds. Drop by tablespoon onto parchment-covered baking sheets. Place at least 3 inches apart, because they will spread. Bake at 350 degrees for 8 to 9 minutes or until golden. Cool 1 minute on the pan, then remove to a cooling rack. [email protected]