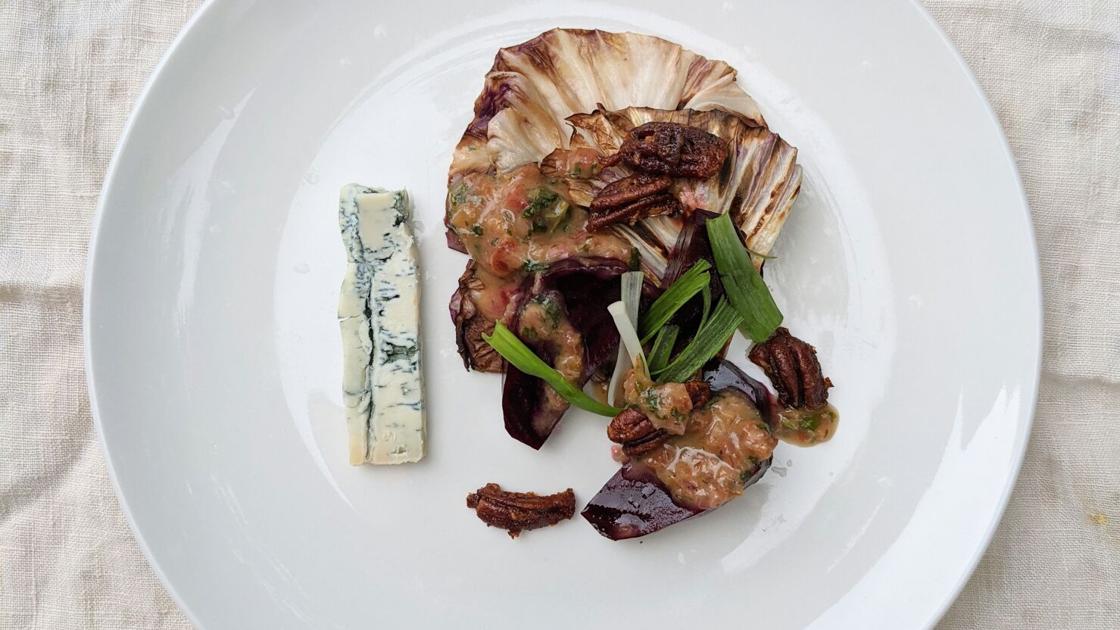 Fire makes this salad sing | Taste, the Santa Fe dining scene
This week in Santa Fe, the rain has been generous. So much so that it's taken me about four days to light the grill and put this salad together. Like any recipe, you can pivot as needed. But I wanted the taste of wood and fire to be part of this salad, so here we are.
I could have seared the radicchio quarters on a dry hot skillet. I could have broiled them in the oven until they started to char on the edges. I could have braised them in a low oven with water, a bit of butter and herbs. I could even have left them raw. If I couldn't find radicchio, I was prepared to pick up a small red cabbage. So as you traverse the idea of giving this a try, remember you have plenty of options. You could easily prepare the beets, pecans and dressing the day before.
There are times when a salad is meant to be tossed until every surface is lightly coated in some kind of bright vinaigrette or dressing. This is particularly true for leafy green or chopped salads. But there is another situation, too, a time when covering everything with dressing results in a missed opportunity for the delight of what I like to call a nook-and-cranny salad. Think of it like this: You know how certain pasta shapes hold meat sauces better than others? Lucky for us, the same can be said for salads. For recipes like this, with large wedges of beets and ribs of grilled radicchio, spooning the dressing over the top makes all the difference. The result? Some areas get dressed and some don't.
When you dig in with a fork and knife, you will find a vast terrain of flavors. With one bite, you might taste nothing but the grounded sweetness of beet with a crack of salt. In its natural state, this (especially at this time of year) is a treat in itself. Or maybe your first bite is radicchio. Thanks to grilling, a mellow sweetness has emerged through the bitterness typically found in chicory greens (radicchio is one variety of this family that also includes endive, escarole and frisée). And the stage has been set for the next bite, the same as before, but now bursting with flavors of ripe plum and basil.
This is lovely and satisfying on it's own for a lunch or dinner salad. But since the grill is on, it also pairs well with grilled salmon, chicken or almost any red meat.
Grilled Radicchio and Beet Salad
Makes: 4-6 servings; total time: 2 hours
2 large red beets (or more depending on size), washed well
For the chile maple pecans:
2 tablespoons real maple syrup
1-2 teaspoons red chile powder, depending on your heat preference
2 tablespoons aged sherry vinegar
¼ cup extra virgin olive oil
Salt and pepper, to taste
4 green onions (scallions), sliced
4 ounces Gorgonzola blue cheese (optional)
Prepare the beets: Preheat the oven to 375 degrees. Poke each beet carefully with a knife so steam can escape while cooking. Place the beets on a baking dish big enough to hold them. Drizzle a little olive oil over each one along with a sprinkle of salt. Add around ¼ inch of water to the pan. Cover tightly with foil or oven-safe lid and roast until the beets are tender when pierced with the tip of a sharp knife. The timing of this can be anywhere from 30 minutes to an hour and a half, as it depends entirely on how small or large the beets are. Once they are cooked, remove them from the oven and let them come to room temperature. Once they are cool enough to handle, remove the peel with your hands, a paper towel or back of a paring knife. Slice into wedges and keep refrigerated until ready to put the salad together.
Prepare the pecans: You can easily do this while the beets are cooking since the same oven temp is used. Preheat the oven to 375 degrees. In a small saucepan over medium heat, add the butter, maple syrup and chile powder. Bring this mixture to a boil. Stir in the pecans and immediately turn off the heat. Transfer the pecan mixture to a parchment paper-lined sheet pan and sprinkle with a few cracks of sea salt. Bake for 10 minutes. Let cool completely before transferring to an airtight container. Store the pecans at room temperature until ready to use.
Prepare the plum dressing: Add all the dressing ingredients to a blender. Pulse just until everything is broken up and combined. You can also do this by hand by finely chopping the plums, shallot and basil and adding them with the rest of the ingredients in a bowl. Give it a taste and season with salt and pepper as needed. Store in the fridge until ready to use.
Grill the radicchio: Light your grill to a medium heat. Slice the radicchio into quarters; wash and dry each piece on a clean dish towel. Transfer the pieces to the grill, drizzling them with a little olive oil and a crack of salt. Grill until they have nice color on each side but are not burned.
To serve the salad: You can plate individually or on a platter. Lay radicchio leaves down on the plate. Add beet wedges. Spoon the vinaigrette over the top and around. Now top with green onions, candied pecans and a slice of Gorgonzola on the side.
Marianne Sundquist is a chef and writer who co-founded Stokli in 2020, an online general store on a mission to empower local growers and makers of dry goods. Find her on Instagram @chefmariannesundquist, visit stokli.com and email her at [email protected]