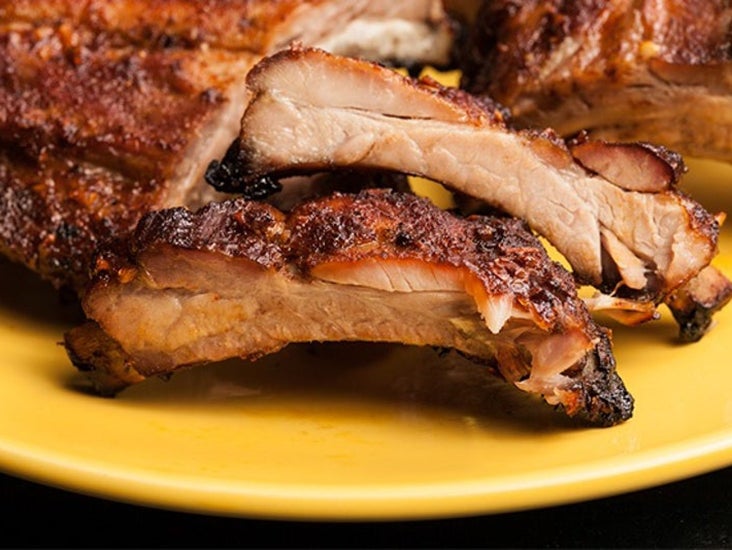 How to Make Easy Oven-Baked Ribs
All featured products are curated independently by our editors. When you buy something through our retail links, we may receive a commission.
Baked ribs are nothing to sniff at—except they sort of are (when it comes to that tantalizing aroma, anyway). Oven ribs are easy and pretty much foolproof, especially compared to slow-smoked ribs, and you can always finish them on the grill if you really want to. Either way, any of these would be perfect for Labor Day.
Some eating experiences just make you feel a bit more primal—hacking into a gargantuan porterhouse steak, for instance, or gnawing on a massive smoked turkey leg. But a big prehistoric slab of ribs really puts you in touch with your inner Flintstone. Eating copious amounts of meat right off the bone, inadvertently smearing sauce on your face, licking your fingers to get all the flavor? It's messy, and delightful, and makes you feel a little wild—and very, very happy.
Our ancient ancestors would have had to cook their meat over open flames, and barbecuing ribs is still a damn fine way to cook them; there's nothing like a perfect pink smoke ring in your meat, or the char from a live fire, but sometimes you don't have access to a grill, or just don't feel like tending one for hours. You've gotta make side dishes, after all! And maybe it's raining, or snowing, which doesn't stop some people, but why be a martyr? This is where your oven comes in.
Baked ribs are easy and require precious little of you, save maybe a rub or marinade pregame, and then some occasional basting in the final stretch. They also take time, it's true—usually several hours—but you'll be free to do other things for the most part, while the ribs hang out and basically cook themselves.
The low, slow heat and moist environment of the oven makes the meat fall-apart tender and still gives you some color on the edges of the slab, where your chosen sauce caramelizes. Generally, you'll be wrapping the ribs in aluminum foil for the bulk of the cooking time, which helps them get juicy and tender, then exposing the surface so you can slather on your sauce and get a little color.
For the best of both worlds, you can still finish your oven baked ribs on a grill (as in our Smoky Sweet BBQ Beef Short Ribs recipe, shown below), but that is certainly not required.
Even if your recipe calls for a grill as a last step, as several of these do, feel free to skip it, or to heat up your broiler and add some extra char to the ribs that way (just check often to make sure they don't burn, especially if your sauce has a lot of sugar in it). You could even finish them in a grill pan if you're willing to dirty another dish. Sure, they won't be exactly the same, but they will be delicious and you won't have any complaints.
Happily, nearly all varieties of ribs take well to the oven-baked method—the one exception being flanken ribs, which are beef short ribs that are cut much thinner across the bone and are best quickly grilled, as in the Korean classic beef kalbi.
A long spell in a slow oven is a surefire way to make fantastic ribs of any other sort: pork, beef, lamb; baby back, spare, short. And you know what? Baked ribs are so delectable you don't even need an excuse to make them that way.
Fire up your oven for one of these recipes and you'll agree.
This Cajun-influenced recipe from chef Isaac Toups is ridiculously easy—and delicious. The smoky, simple rub and braising liquid of beer, hot sauce, and honey pack in tons of flavor. And the double-dill pickles are a perfect complement (not to mention equally effortless); just be sure to make them at least a day ahead for the best flavor. Get the Smoky, Sweet, and Spicy Oven Ribs recipe.
These ribs do need to be marinated in cider vinegar, dark brown sugar, garlic, paprika, and black pepper for at least 12 hours, but otherwise, they are completely undemanding. They cook entirely in the oven—no finishing school for these down-home beauties—and any leftovers are even good eaten cold. Get our Vinegar and Spice Oven Baked Ribs recipe.
The earthier flavor of beef ribs really benefits from a dark, sticky, stout-enriched barbecue sauce that has a little heat from Sriracha. Use a roasty, rich stout for more depth and flavor, one with coffee or chocolate notes, and drink the rest of the beer with your ribs. Get the Oven Roasted BBQ Ribs with Stout Barbecue Sauce recipe. Or, set up an easy DIY oven smoker and make this Stout Smoked Ribs recipe. (They're still great with that sauce.)
These ribs are brilliant, and concrete proof that different is good. Blasting all your standard BBQ sauces out of the water, this peanut butter based sauce brings in Thai flavors like sweet chili sauce, red curry paste, and rice vinegar. (For another Thai inspired ribs recipe, here's a version with coconut milk in the sauce.) With this one, you get a bonus crunchy, gingery slaw recipe too—all you need to add is some sticky rice (and plenty of napkins). Get the Extra Sticky Thai BBQ Ribs recipe.
These ribs swing back to the traditional end of the spectrum, but they're just as good. They get layers of flavor from a spice rub with chili powder, brown sugar, paprika, garlic, and mustard, and then a sticky-sweet barbecue sauce with a little tang from cider vinegar and tingle from garlic and chili powder. Don't stress if you can't finish them on the grill (or just don't feel like it); a run under the broiler will be almost as good. Get our Easy BBQ Baby Back Pork Ribs recipe.
If you like spicy, you must try these jerk pork ribs. The mango nectar, dark molasses, and sweet spices like cinnamon and nutmeg in the sauce temper the heat a bit, but it still packs a punch from scotch bonnet chiles and ginger. If you season your ribs with salt and spices on the same foil-lined pan you'll cook them in, you cut down on clean-up. Get the Oven Roasted Pork Ribs with Mango Jerk Sauce recipe. (These Jalapeño Mango BBQ Pork Ribs can also be made in the oven.)
Another significantly spicy rib recipe, but with different dimensions—and made with beef short ribs instead of pork. The tomato-based BBQ sauce is smoky from chipotles and zesty with garlic, cumin, bay leaf, oregano, and orange juice. (Here's a great pork version.) Any leftover meat would be great taken off the bone and shredded for tacos or sandwiches, or made into burritos with the accompanying green rice. Get the Fiery Fall-Apart Mexican Beef Ribs recipe.
These Memphis-style ribs are called dry, but that refers to the rub and the lack of any additional sauce; the meat itself is perfectly juicy, and generously coated with spices and herbs. Just before being served, the ribs are dipped in vinegar for tang, and coated in extra seasoning. (For another sauce-free recipe, check out these coffee-chili-rubbed ribs.) Get the Memphis Style Dry Ribs recipe.
Whiskey and bourbon show up in barbecue sauce pretty often; this one has equal parts booze and honey, plus tons of other components, like hoisin, Dijon, soy sauce, and molasses, to name just a few, for a deliciously thick and deeply nuanced glaze on the luscious meat. Get the Melt-In-Your Mouth Bourbon-Honey Glazed Ribs recipe.
Lamb ribs don't get nearly as much attention as pork and beef ribs, but they're a fantastic change of pace. There's actually an abiding lamb BBQ tradition in Western Kentucky, dating back to when it was the largest producer of lamb in the U.S. But this recipe goes Greek with bright lemon juice, earthy oregano, pungent rosemary, and plenty of garlic. Lamb ribs are fattier than pork or beef, but that helps them get nice and crispy when properly cooked. Note that the temperatures in this recipe are given in Celsius; for help converting, see this guide. Get the Lamb Ribs with Greek Marinade recipe.
If you're not familiar with gochujang, be prepared to become addicted. This umami-rich Korean chile paste is sweet, spicy, and full of incomparable flavor. It's augmented here with a little ketchup, soy sauce, cider vinegar, and honey in a barbecue sauce that lacquers the ribs. Chopped peanuts and scallions are a great crunchy, fresh garnish. (For a spicy rib recipe using another beloved Asian condiment, try these BBQ Sriracha ribs.) Get the Spicy Gochujang Pork Ribs recipe.
While we can all get behind ribs so tender that the meat parts from the bone with little more than a gentle prod, these are a bit firmer and chewier by design (they also cook a lot faster than most oven baked ribs). They're fragrant with a Chinese five spice blend and a little sticky from soy sauce, and just a bit more resistant to the tooth. If you crave these flavors but prefer more succulent meat, you can always bake these in foil for a longer period, as in any of the preceding preparations. Get the Oven Baked Five Spice Ribs recipe.